Practical COVID tips as we re-open
**if you want to receive future newsletters from me on COVID + the latest convergence of culture, science, and business, click subscribe in the upper right hand corner!
Hi friends, I hope you and your loved ones are staying safe (and sane!) during these trying times. I decided to write some practical science-based tips (interspersed with musical interludes and memes) to living with COVID-19 in response to the misinformation or impractical details being perpetuated by a sensationalist 24 hour news cycle.  As a health professional, I've been fielding questions over the last 2 months and wrote this based upon the most common concerns and misconceptions. This is especially important as we are about to re-open communities and step into a strange new world…
In this newsletter I'll touch on topics like the best materials for a mask, if you can get COVID from contaminated groceries or takeout, the pros/cons of different tests, how long surfaces or air can be infected, how to best kill the virus, if COVID is really airborne, how long people are infectious, long term immunity, etc. 
But before we dive in, let's pause and reflect on some positive things from this crisis.   Precious time spent with loved ones.  Re-evaluation of priorities.  Realizing we are all inextricably intertwined global citizens.  New public health measures that will curtail a more devastating pandemic in the future.  Allowing the Earth to breathe during the pause in human activity…
Personally, I've been using this newfound space to reflect, spend treasured time with family, and work on my next company (a private "FDA" for alternative therapies).
In fact, this quality time alone has been so perspective shifting I decided to write a parody song about it to the tune of Ed Sheeran's "Thinking Out Loud".  I hope it gives you some giggles and you keep some new habits gained during quarantine!
Ok back to the matter at hand… 
1. How do you differentiate symptoms of COVID-19 from other conditions?
Flu season may be behind us but we are now entering hay fever season and as schools resume, those of you with children may experience an uptick in viral colds. The following table compares the symptoms of COVID to other common conditions.  However public health officials are recommending that anyone with cold or flu symptoms should assume they have COVID and keep distance from others.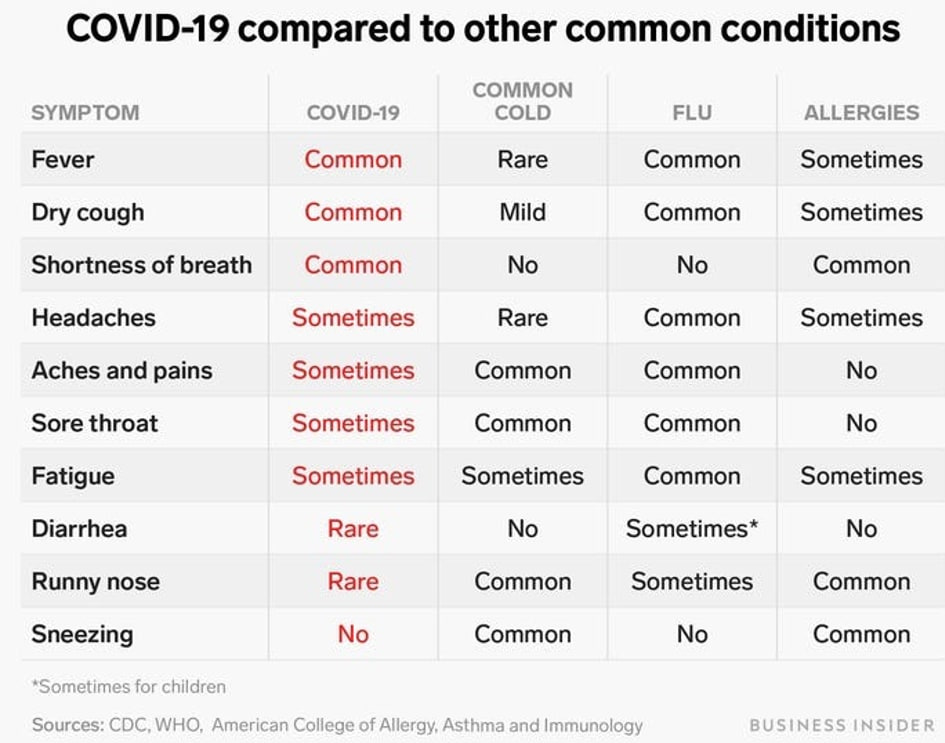 2. How long can coronavirus remain infectious on surfaces or in the air?
A recent study showed NO virus particles remaining after 4 hours on copper, 1 day on cardboard, and 2-3 days on plastic or steel.  Keep in mind this study was at room temperature, and the virus can survive much longer (as long as a month!) in cold places like your freezer or your porch in colder climates.  So you can allow nonperishables to "self-disinfect" much quicker by leaving them at room temperature.  
Porous absorbent surfaces (eg clothes) are less likely to transmit corona than smooth surfaces (eg the glass or plastic of the device you cant put down because Tiger King is on Netflix).  Why?  The virus is imbedded in the pores, reducing its potential to stick onto something that comes in contact, like your hand.  Moreover, the virus dehydrates quicker on absorbent surfaces which targets its "Achilles heel" (more on this later).  
As for air…it's complicated.  When we say a virus is "airborne", we generally mean it can get into the air when an infected person coughs or sneezes or even breathes, travel far distances, and stay there for long periods of time (ie hours).  Measles is an example of an airborne virus and this is one of the reasons measles is so incredibly contagious. 
A recent study showed that artificially aerosolized COVID virus in the lab can remain alive in the air for up to 3 hours.  Whether or not this can happen outside of lab is still contested as there are conflicting studies—some show no virus in air samples collected from hospital rooms with infected patients, whereas other studies did find virus in air samples.  
However, regardless of whether corona is "airbone", it can still be transmitted in the air via droplets.  When someone sneezes, coughs, or even talks, they expel fluid droplets containing the virus which could land on someone's mouth/nose/eyes and infect them.  As opposed to aerosolized particles, droplets tend to only stay in the air for seconds before their heavier weight and larger size causes them to fall to the floor.  
The WHO's current position is while airborne transmission may be possible in very specific circumstances (i.e. healthcare workers handling COVID patients on respirators), the virus is primarily transmitted via respiratory droplet and surface contact.
So treat this like a theme park ride and stay minimum 6 feet away from others so you are out of the "splash zone" of droplets.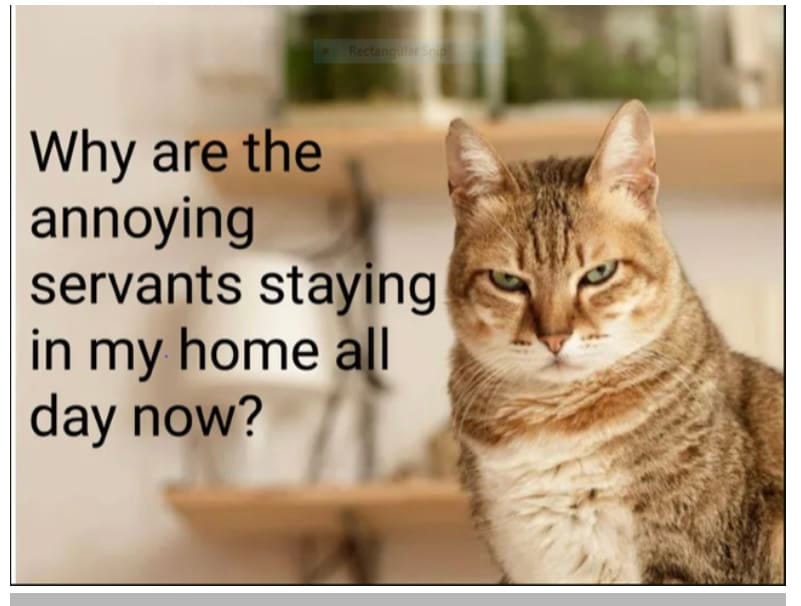 3. How do you kill the virus?  
There is one silver lining: this virus is surrounded by a layer of fat that it needs to infect.  This layer of fat is the "Achilles heel" of this virus and makes the virus relatively easy to kill.  Disrupt this layer of fat and the virus is "dead".  What can disrupt this layer of fat?  Soap.  Alcohol.  Dehydration.  This is why its important to wash your hands with soap and warm water (not because the heat from the warm water will kill the virus—the temperatures needed to directly kill the virus would burn the hell out of you—but rather because warm water results in more fat-disrupting soapy foam).  To completely destroy this fat layer scrub your hands for 20 seconds—about the time it takes to sing happy birthday.  
When washing your hands isn't feasible or there are large surfaces that need disinfecting, using any alcohol mixture with at least 60% alcohol will also destroy this fat layer.  Bleach also destroys the virus.  Non-alcohol based products (such as ones relying on Benzalkonium chloride) do not seem to work as well against coronavirus as alcohol based products.  
You may have heard of hospitals using heated ovens and UV to kill the virus.  This is accomplished with professional equipment and thus these techniques are not suitable for use with home equipment.  For example, the UV used by hospitals is a special concentrated UV, different than UV say from the sun.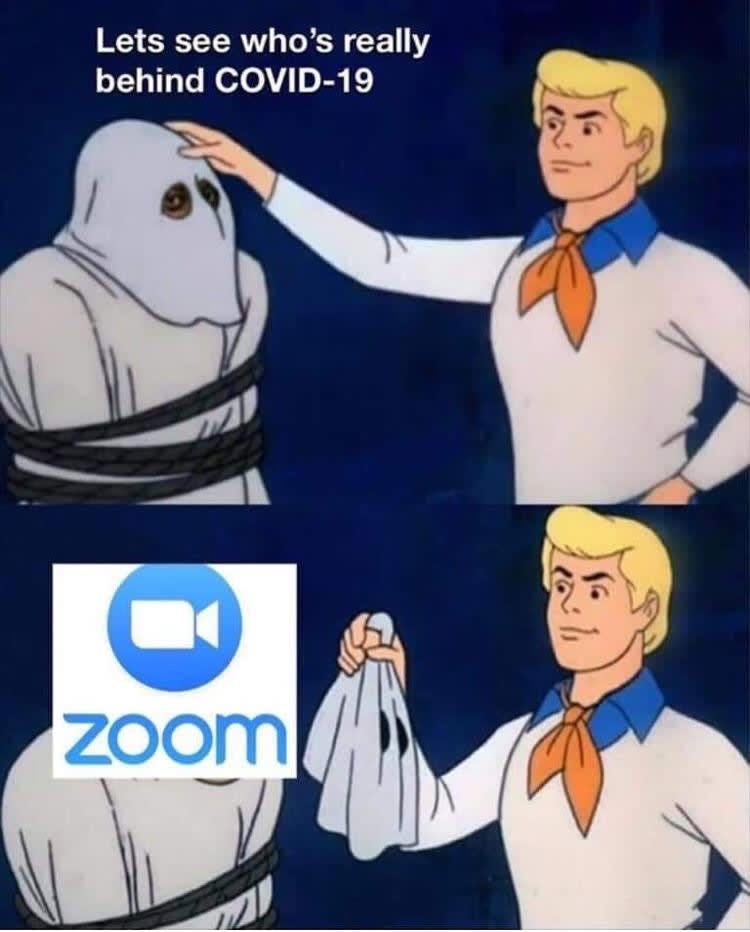 4. Do I need to disinfect my groceries or takeout?
While it is theoretically possible to get COVID-19 from contaminated food or packaging, in reality it is highly unlikely and the FDA on April 16 tweeted "there is currently NO evidence of human or animal food or food packaging being associated with transmission of the #COVID19".  Even the virologists who did the studies on the survival of COVID on various surfaces said in this CNN article that they personally dont wipe down groceries or takeout. However if you are a high risk group, it may be better to be safe than sorry. Heating the food in your microwave could theoretically eliminate any potential virus (30 seconds of microwaving can make avian coronavirus non-infective).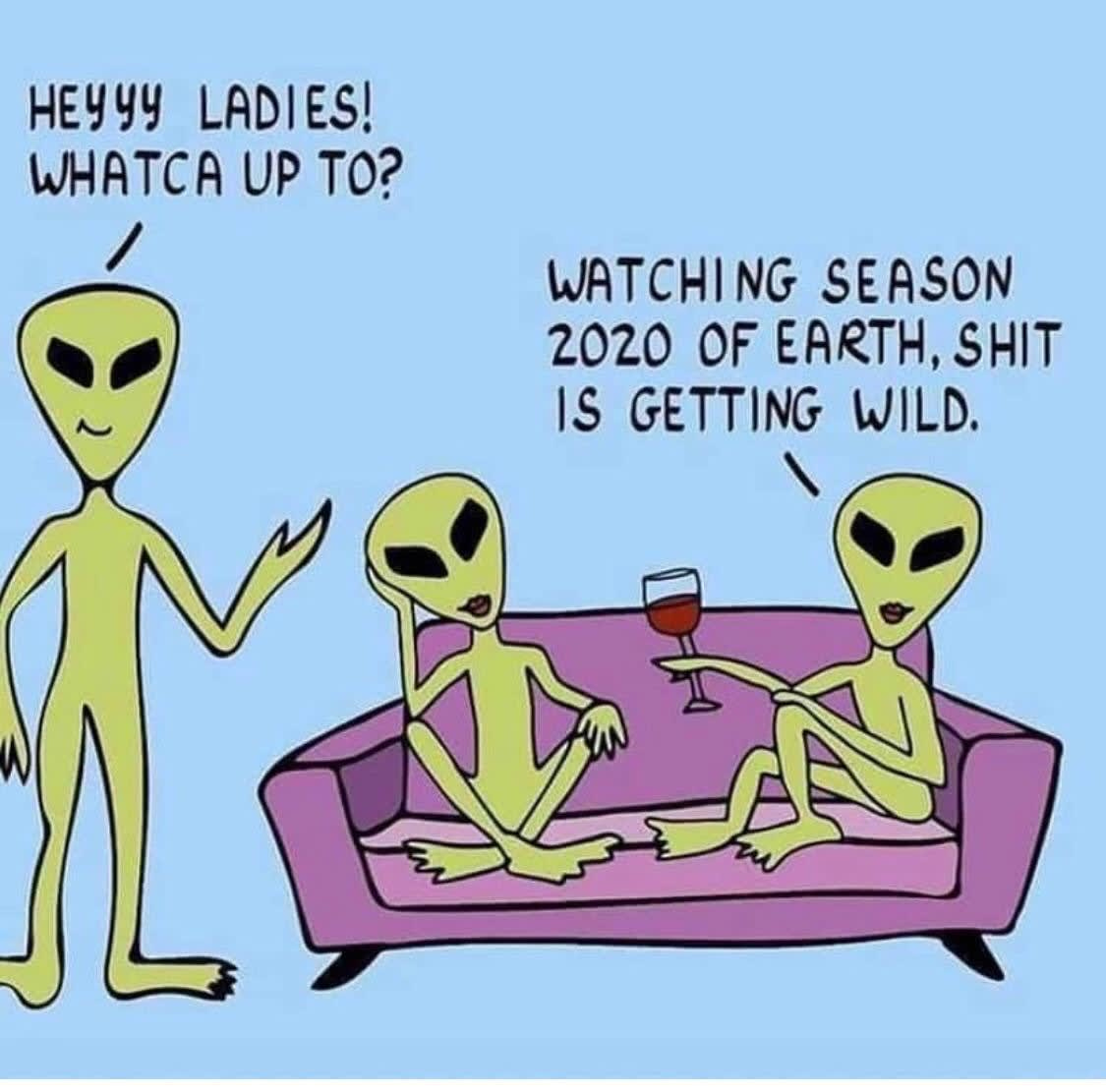 5. What's the real deal about masks?
Masks serve several theoretical functions
Reduces transmission to others – If an infected individual wears a mask, it will catch some of the virus-containing fluid droplets they expel.  This means less virus for someone nearby to inhale. 

Reduces transmission to self – If you are near someone who is infected, a mask can catch some of the virus droplets that you might have otherwise inhaled.  

Reduces self-infection – With a mask on, you are less likely to touch your nose or mouth.  And given we touch our faces once every few minutes (if only we touched our loved ones this much!), this reduces the chance we infect ourselves with contaminated hands.  
However, there are many practical caveats.  N95 masks are the "gold standard" masks for COVID and are used by frontline healthcare workers.  However, its harder to breathe when using an N95 compared to say, a surgical mask.  So the theoretical better protection may be offset by the propensity to take off the N95 for a "breathing break".  This may explain why in a head-to-head study of real world usage of surgical vs N95 masks, they were no different at preventing flu infection in healthcare workers
What if you can't get a surgical or N95 mask?  A 2013 study (results below) compared the effectiveness of various professional and homemade masks for filtering out virus particles: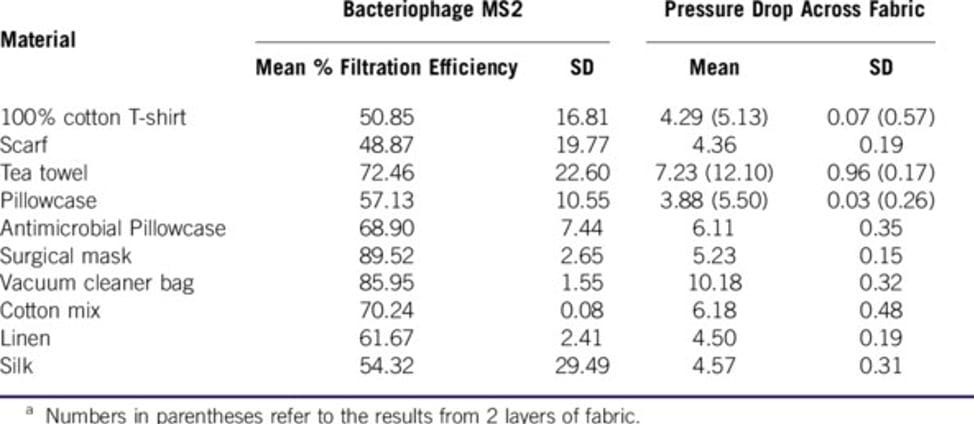 *"Bacteriophage" is the scientific name for virus ("phage" or "fage"  is Greek for " devour"), so-named because when we first discovered viruses a century ago we observed they would "devour" bacteria and turn the bacteria into many more virus.  Sorry Fage greek yogurt lovers if I've just ruined the brand for you…
** "Pressure Drop" measures how much air is lost ("dropped") across the material.  A high pressure drop means the material is NOT very breathable.  So a vacuum cleaner bag may get brownie points for creativity and protection, but good luck trying to breathe comfortably…
A few things jump out in this table!  Notice the cotton t-shirt filtered 50% of virus particles!  Now that's not particularly re-assuring for a potentially life-threatening illness, but in an emergency if you have nothing you can always go into TURTLE MODE and slip your nose and mouth under your shirt to protect yourself or to prevent infecting others.  And CDC recently came out with recommendations to wear at a minimum "cloth" masks in public to slow spread, with a nifty guide on how to make them. 
Also notice how the surgical mask filtered out 90% of virus!  While not used in this study, N95 masks would theoretically filter out 95% of viral particles (hence the "95" in "N95").  So surgical masks seem to do nearly as good a job than the gold standard N95 (which are much harder to find and should be reserved for healthcare workers).  
One more thing to note. If you are lucky enough to have an N95 or surgical mask, they can be re-used—just dont share them with others in case one of you is infected. Normally healthcare workers are told not to re-use masks, but that's more out of concern of the mask spreading infection from one patient to another as opposed to infecting the healthcare worker. But even the CDC is giving guidelines on how to sterilize masks so healthcare workers can re-use them. We dont know how many times it can be re-used and still maintain its filtration. We DO know these masks when damp do not work as well, so in-between use let it dry thoroughly—putting it in a paper bag is a good way to protect it while also letting it dry. While theoretically putting it in the sun would allow the UV to further disinfect it, it may also accelerate degradation of the mask material.
In summary, wearing a mask, even a homemade one, may be the best thing you can do for yourself AND others!  And it looks like it could be law soon in many localities upon re-opening.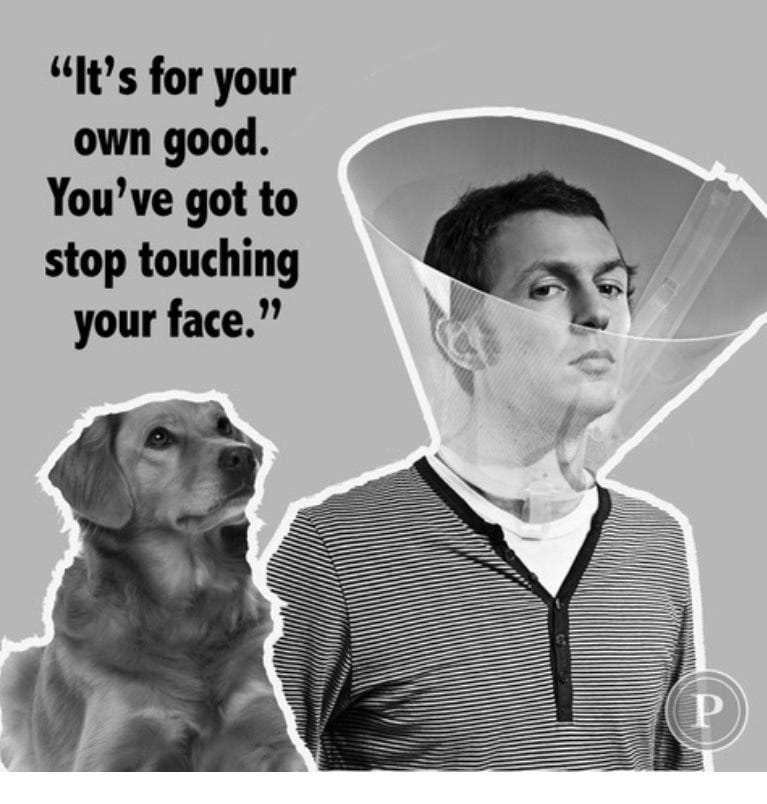 6. How do I know if I need to go to the hospital?
If you are having any shortness of breath or difficulty breathing, that's a sure fire sign to call 911 or go the emergency room.  Otherwise, if you are feeling unwell contact your doctor who can better assess if you need to go to the emergency room.  Going to the hospital is not without risk.  If you didn't have COVID (but had say a cold or flu), you are at a higher risk of catching COVID and other viral and bacterial infections in the hospital. However hospitals now have good systems in place to immediately separate patients who do and dont have COVID, so the risk of contracting COVID in the hospital is minimized.
7. How do I know if I or others are infectious?
In the world of infectious disease, "incubation" is the time from infection to symptoms.  For COVID, average incubation is 5 days, but can be as long as 14 days.  And we become infectious starting 2 days before symptoms start and can remain infectious for days after symptoms subside!  
Moreover, it appears 25-50% of infected people never display any symptoms but may still be infectious…however for these folks we do not know when they start and stop being infectious.  
The current rule of thumb is if you have any symptoms of a cold or flu, assume you have COVID and are infectious and stay away from others.
Current public health guidelines state you are no longer infectious after the LONGER of these two criteria: 1) Seven days from symptom onset OR 2) Three days of no fever AND symptoms are improving.  You are still considered infectious in ALL of the following examples:
You are 10 days from symptom onset, but you still have fever 

Your fever and symptoms stopped 3 days ago but you are only 5 days from symptom onset

You are 8 days from symptom onset and you stopped having fever 3 days ago but your symptoms are not improving over the last 3 days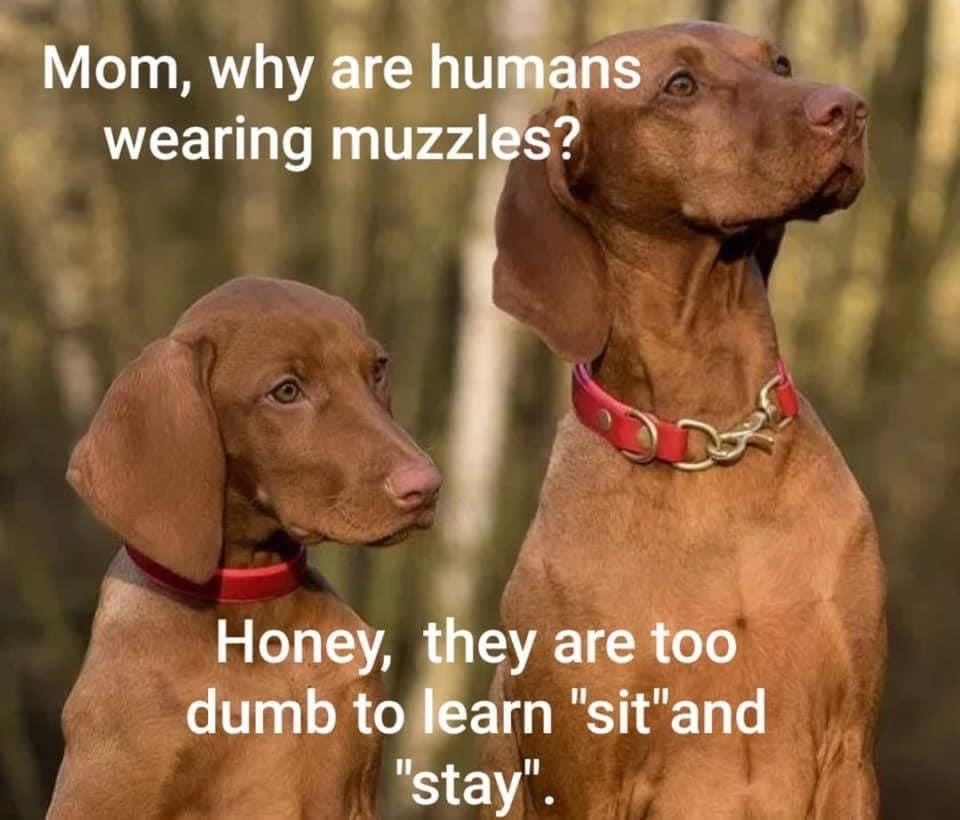 8. What's the deal with testing?
Firstly, we need to understand the distinction between 1) a lab test which takes days, requires technicians, sophisticated equipment and samples need to be physically transferred to the lab vs 2) a test kit which takes minutes and requires no additional personnel or equipment and can be used "in the field" without physical transfer. The test kit is significantly less accurate than the lab test.
The most reliable is a lab test using a technique called PCR to detect the presence of virus genetic material. Less reliable is a test kit looking for "antigen" (a structural part of the virus). It cannot detect human antibodies which are the "homing missiles" your body manufactures after it gets infected with a bug--these missiles will quickly recognize and destroy the same intruder in the future, making you immune.  
Thus neither PCR lab test or antigen test kit will be able to tell you if you had an infection in the past or if you are immune, but will only tell you if you currently have virus in your body.
Antibody test kits have also popped up. However for most of these antibody or antigen test kits, their accuracy has not been proven—thus these should be considered research or screening tools requiring confirmation via a laboratory-based test. For example, this week, the FDA changed their policy to tighten regulations on the questionable antibody testing kits that have flooded the US. Why is this important? If you get a positive antibody test you might proceed with life as if you can't get infected nor can infect others, which could have severe consequences if the test was wrong.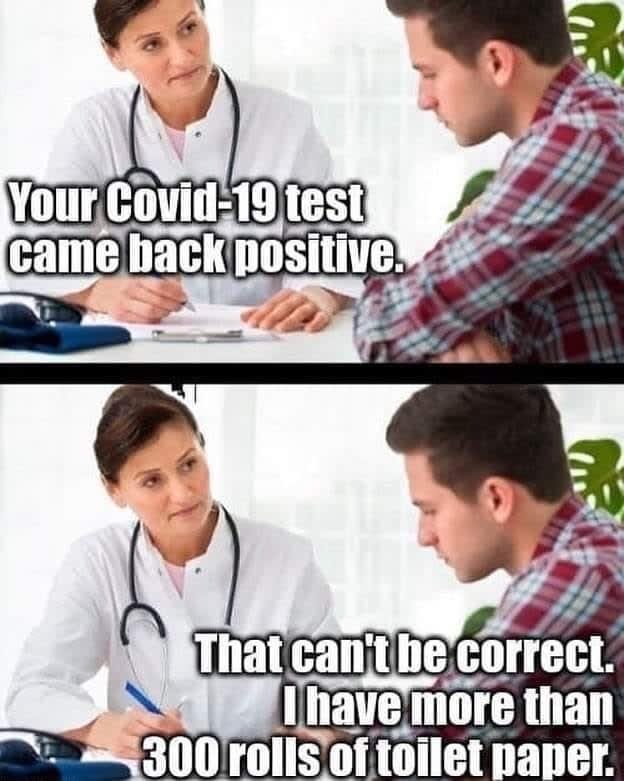 9. Once infected and recovered, am I immune?
Immunity is all about having antibodies. Some people get infected with a bug and recover but never produce antibodies against it, and thus are not immune from future infection. If you test positive for antibodies to novel coronavirus, initial data suggests you likely have immunity. However even if you are immune…it may only be for a short while until you encounter a mutant version of the virus unrecognizable by your antibodies (which may be as early as this Fall). This is why we need to vaccinate against influenza every year—it keeps mutating and thus needs a new vaccine. The coronavirus family is responsible for 10-30% of cases of the common cold, and part of the reason there has never been a vaccine for the coronavirus is the viruses mutates quickly.
And over the last few months the virus has already mutated significantly into a more contagious version and different regions of the world are dealing with different mutants.
Now, earlier we said most antibody and antigen test kits for this virus have unproven accuracy. However, if you can find a reputable lab near you that offers antibody testing and they have data on how accurate/reliable their testing is, that's a way to assess your immunity to this current mutant. Companies like Quest and Labcorp have recently begun offering what seems to be reliable antibody testing.
Unfortunately a new mutant may hit the U.S. as soon as this Fall.
UNTIL NEXT TIME…
I hope you found this information useful during these trying times.  There are several other questions people have been asking me, but right now the data is contradictory or far too preliminary to act upon—dont believe social media and the sensationalist 24 hour news cycle!  Case in point: hydroxycloroquine (the "gamechanger" widely touted by President Trump) turns out does NOT benefit COVID patients and actually leads to heart complications. 
Data permitting, in my next newsletter I'll address questions such as:
What solutions have actually been shown to prevent or treat COVID?

Which specific antibody test kit is accurate?

When will a vaccine be available? 

How dangerous really is COVID for someone like me?

Is the warmer weather starting to slow COVID down?
Until then, stay safe (and sane)!
Keep Fighting the Good Fight,
Dr. Jeff Chen MD/MBA